Advocacy
Chicago Advocacy
From learning about the legislative process to tracking a bill in Congress, the NAWBO Chapter Advocacy Toolkit has the information that you need to better understand the inner workings of your state, local and the federal government.
Political Action
The NAWBO Chicago PAC is a bipartisan organization that informs and educates NAWBO's membership and selects and endorses candidates for office in Illinois. Its goal is to promote good government by supporting local and state candidates with conviction of principle who will champion issues most important to women business owners.
The NAWBO Chicago PAC is funded by donations from NAWBO Chicago members and others in the women's business community. The PAC will not endorse any candidate who does not complete a PAC questionnaire. Questionnaires are not distributed in bulk to all candidates running for State or local office, but will be delivered to a candidate upon the request of a NAWBO member or that of the candidate.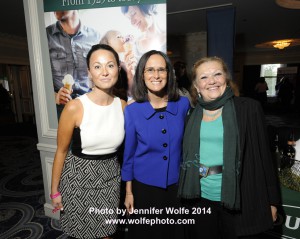 NAWBO Chicago Past President Emily Smith and PAC member, Michele Kurlander and Attorney General Lisa Madigan at THRIVE 2014.
The PAC invites all interested members – Democrats , Republicans and Independents – to support the PAC by attending its educational sessions and special events. Your donations are needed to give us the means to support candidates who champion women's business issues. Please contact the PAC through Linda Forman at LFormanCPA@aol.com.