AUGUST 2022
THIS MONTH IN THE CIRCLE
Embrace a more holistic and sustainable version of success with this month's Circle program activities.
Everything you need to know this month:
—Welcome New and Returning Members—
—Register for Elite Ignition Program
(Cohort #1 Starts October 26th)—
—Join Your Mastermind Group This Month
(Starting September 15th)—
—National Women's Business Conference
(Plan to Arrive October 8th)—
—Save the Date for Miraval Retreat 2023—
____________
But First, Let's Welcome Our New* and Returning Members From Across the Country!
Lisa Brunet, DLZP Group, LLC, Richmond, Texas
Leader in deploying Oracle applications into the Amazon web services cloud and founding member of the AWS Test Drive program.

Jeanette Armbrust, Greenlight Leadership Consulting Group,
Los Angeles, California
Supporting leaders through coaching as they work on themselves, navigate complex business uncertainties and grow their organizations.

*Michelle Soul, ProjTek, Inc., Kent Washington
Providing Technical Solutions, RF Wireless Designs, Network and Infrastructure Designs and Implementations.
____________
ELITE IGNITION PROGRAM
The Elite Ignition education series is kicking off next month. Click on (or scan) the QR code below to visit the CIRCLE Elite Ignition registration page. Once there, use promo code THECIRCLE on your order form to instantly receive a 90% discount on the series.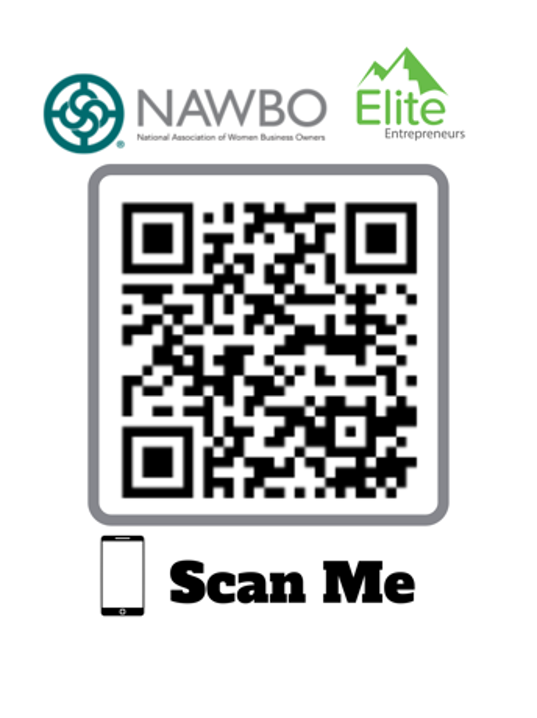 Elite Ignition will be delivered in two parts: class meetings and individual coaching sessions. Two cohorts of classes will meet on the following schedule:
Cohort #1:
Wednesday, October 26: 1-3 p.m. ET
Wednesday, November 2: 1-3 p.m. ET
Wednesday, November 9: 1-3 p.m. ET
Wednesday, November 16: 1-3 p.m. ET
Cohort #2:
Wednesday, February 1: 1-3 p.m. ET
Wednesday, February 8: 1-3 p.m. ET
Wednesday, February 15: 1-3 p.m. ET
Wednesday, February 22: 1-3 p.m. ET
Individual coaching will be scheduled by participants with their coaches.
____________
MASTERMIND GROUPS
Please plan to join your Mastermind Group this month:
Group 1:
3rd Monday at 4 p.m. ET (September 19)
JOIN THE ZOOM
Group 2:
4th Monday at 4 p.m. ET (September 26)
JOIN THE ZOOM
Group 3:
3rd Thursday at 12 p.m. ET (September 15)
JOIN THE ZOOM
Group 4:
4th Thursday at 12 p.m. ET (September 22)
JOIN THE ZOOM
____________
Circle VIP Experience at
National Women's Business Conference
Sunday, October 9-Tuesday, October 11
Louisville, Kentucky
Circle members, we can't wait to see you in Louisville for this year's National Women's Business Conference with the theme of "Power Your Dream." We have some very exciting activities and sessions planned just for you.
Please arrive by the early afternoon of Saturday, October 8th and plan to stay through Wednesday the 12th if possible. We have several incredible activities planned that are part of your Circle VIP event experience:

Saturday, October 8th
Circle-Only Reception 
5:30-6:30 p.m.
Hosted at the offices of Mightily (Lesa Seibert, owner, is a NAWBO National Board member and Circle member) at 111 W. Main Street, Suite 202 in Louisville. Featuring wine and bourbon tasting by two woman-owned local distillery/wineries. Private non-hosted dinner to follow.

Sunday, October 9th
Design Your Own Blueprint Extended Workshop with Debbie Peterson
1-4 p.m.
Join the Circle as we take a deeper dive into the Design Your Own Blueprint materials together in The Galt House's Coe Room.

Monday, October 10th–Tuesday, October 11th
National Women's Business Conference (WBC) 
Click here to see the daily agenda and times
Kick off the WBC with a quick welcome in the Private Circle Room (Brown Room) from 7:30-7:50 a.m. (general breakfast opens at 8 a.m.).
Then, enjoy VIP seating for Circle members during all general sessions, a meet and greet with keynote speakers in the Private Circle Room (Brown Room) and access to all VIP receptions throughout the event.
The Private Circle Room (Brown Room) is available to all Circle members throughout the event for a quiet place to conduct business, take a break, meet up with other Circle members and more.

Wednesday, October 12th
Consider coming to play with your NAWBO sisters. 
Click here for information on add-on tours and the NAWBO-UPS 9-hole golf outing.

Not yet registered for WBC2022?
Your Circle promo code for the WBC at half price is: W2B2C250CIRCLE
____________
MIRAVAL RETREAT 2023
Save the Date!
April 27-29, 2023
Details are coming soon on an exact location
and how to make your reservation.