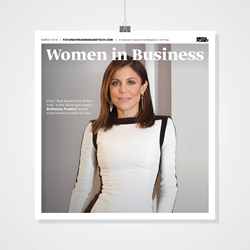 Following International Women's Day, Mediaplanet announced the launch of this March's edition of "Women in Business" that will be a guide to all business people on the benefits of having women in higher positions as well as how to encourage women to advance in the workplace by highlighting the tools and resources being made available to make the workplace equal.
Women, despite being about half the labor force, own only 36 percent of companies in the United States. Not only do women have to demonstrate a great business plan, have excellent credit, and demonstrate solid cash flow, they must also successfully navigate through a process that tends to unfairly favor male-run startups. National Association of Women Business Owners National Board Chair Kathleen Warnick, discusses how "March is the month designated to celebrate the many historical contributions women have made to this country. This year there is another anniversary to include in those celebrations. This year, 2018, marks the 30th anniversary of the passage of the Women's Business Ownership Act, often referred to as H.R. 5050, as it represented a significant step at the time towards parity for women business owners." 
Mediaplanet had the opportunity to hold the first in-person interview with Bethenny Frankel in her new SoHo office where she discusses her pride in being a pioneer. "My biggest success career-wise has been being the first reality star to monetize the medium and create a pathway for others to do so," says Frankel, "and to inspire women that anything is really possible; to come from nothing and create something from just an idea and turn it into an absolute vision and brand."
As the retail industry grappled with store closings and bankruptcies, women lost 160,300 retail jobs, while men gained 106,000 jobs, according to the Institute for Women's Policy Research analysis of the December employment report from the U.S. Bureau of Labor Statistics. Founder of Rent the Runway, Jennifer Hyman discussing breaking the mold: "In the fashion industry, rental would be a new channel within the industry and some people thought it would actually break the industry. Designers hated the idea when they first heard about the concept of renting, they thought that it might hurt them… but it gave people the freedom to try things from the brand that they wouldn't have otherwise purchased." 
The campaign covers a lot of hard-hitting issues from sexual harassment to work-life balance to underrepresentation, all with the focus of the "Women in Business" spirit that is the life of the campaign. CEO/Founder of Arco + Associates Andrea Arco and Entrepreneur, Business Coach and Consultant Erin Joy says, "It's time to redefine the definition of the female entrepreneurial spirit. Especially as the economy becomes increasingly globalized, women business owners must embrace collaboration. They must find empowerment in building a network of resources and not being afraid to use them." 
The print component of "Women in Business" is distributed within USA Today in New York, Boston, San Francisco, Los Angeles, Carolinas markets, with a circulation of approximately 250,000 copies and an estimated readership of 750,000. The digital component is distributed nationally, through a vast social media strategy, and across a network of top news sites and partner outlets. To explore the digital version of the campaign, click here. 
This campaign was made possible with the support of Bethenny Frankel, Founder of Rent the Runway Jennifer Hyman, Chairwoman of VEON Ursula M. Burns, Founder of BFS Capital Cathy Bass, Vice President of Finance Rose Zhong, Vice President & Division Manager of Aviation of Swinerton Builders Carrie Schaeffer, Mary Kay Cosmetics Chief Marketing Officer of Sheryl Adkins-Green, Vice-President of Enterprise Managed Services Division for Canon of Valerie Belli, Mary Kay Cosmetics, Canon, The Tory Burch Foundation, The U.S. Small Business Administration, National Association of Women Business Owner, Midwest Women Business Owners, The National Association of Women in MBA's, National Association of Women in Construction, International Women's Media Foundation, Equal Right Advocates, National Center for Women and Information Technology, BFS Capital, Swinerton Builders, PagerDuty, Educational Testing Service, The College of Charleston, The State University of New York - Oswego, San Diego State University, Bowling Green State University, and Shenandoah University.
About Mediaplanet 
Mediaplanet specializes in the creation of content marketing campaigns covering a variety of industries. We tell meaningful stories that educate our audience and position our clients as solution providers. Our unique ability to pair the right leaders with the right readers, through the right platforms, has made Mediaplanet a global content marketing powerhouse. Our award-winning stories have won the hearts of countless readers while serving as a valuable platform for brands and their missions. Just call us storytellers with a purpose. Please visit http://www.mediaplanet.com for more on who we are and what we do.
Press Contact: 
Brenda Choi 
brenda.choi(at)mediaplanet(dot)com 
(646) 518-5423
Original Link to the Article: http://www.prweb.com/releases/2018/04/prweb15402651.htm