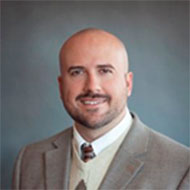 Brian Menicucci is the president and managing member of the agency. He started his business career working for the public accounting firm Muehlmeyer P.C. Certified Public Accountants and Consultants in June 1999. He worked on audits, reviews, corporate and individual tax preparation.
Brian M. Menicucci
President
He began his insurance career in October 2002 with Summit Global Partners as a property and casualty producer. He was part of a team that built a $15 million premium book of business. His individual book of business was comprised of construction, onshore energy, professional (medical and non-medical), and defense contractors.
In October 2007, Brian started the Menicucci Insurance Agency, LLC. The agency was started with a vision to be the best independent agency in New Mexico with a well known reputation for the best service, honesty, fair dealing, industry knowledge, respect for relationships, and the highest quality insurance products at the most competitive price.
Brian has performed risk management services and provided insurance products for a wide variety of contractors in the construction industry. He has also worked with international government service and defense contractors. He enjoys working closely with his clients to make sure that their risk management and insurance program goals are established and achieved.
Brian graduated with honors from the Anderson School of Management at the University of New Mexico in 2000. He currently is a CPA (Certified Public Accountant), RPLU (Registered Professional Liability Underwriter), CRIS (Construction Risk Insurance Specialist), and a CIC (Certified Insurance Counselor).